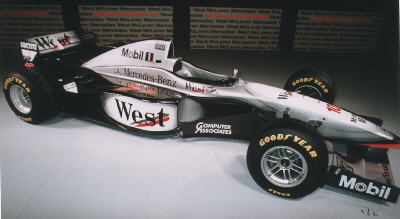 McLaren MP4-12 Technical Specification

CHASSIS
McLaren moulded carbon fibre/aluminium honeycomb composite incorporating front and side impact structures. Contains integral safety fuel cell.
TRANSMISSION
McLaren longitudinal six speed gearbox with semi automatic operation. Control by TAG Electronic Systems. McLaren drive shafts and CV assemblies.

SUSPENSION AND RUNNING GEAR
Front & rear: Inboard spring/damper operatedby pushrod and bellcrank with a double wishbone system.
Springs: Eibach
Dampers: Penske
Tyres: Goodyear
Race Wheels: Enkei

BODYWORK
Construction: One piece side pod and engine cover. Seperate floor section, front suspension cover, structural nose witrh integral front wing, rear wing assembly.

FUEL
Engine Oil: Mobil1 Mobil Unleaded
Oil Tank: integral with gearbox casing
Water radiators: McLaren/Calsonic

COOLING
Oil radiators: McLaren/Calsonic

ELECTRONICS
TAG Electronic Management System 2000 integrated angine and chassis control and data aquisition system. TAG Electronic Systems also supply the electronic dasgboard, ignition coils, altenator voltage control, sensors data analysis and telemetry systems
Mercedes-Benz FO110E V10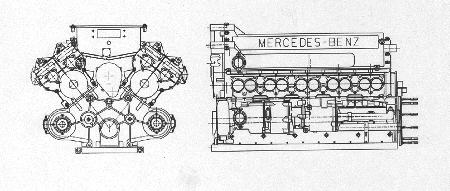 Type: 75 degree V10
Capacity: 3000cc
Valves: 2 camshafts per bank, 4 valves per cylinder
Cyl. Block: Sand cast aluminium alloy, wet liners
Cyl. Head: One piece sand cast aluminium alloy
Crankshaft: Steel
Pistons: Forged aluminium alloy
Oil System: Dry sump
Ignition: TAG 200 Electronic System
Weight: 124 Kg without clutch
Width: 546.4 mm accross water outlet
Height: 483mm to air filter
MP4-12 Launch Story

Formula 1 Contents