Melbourne's Albert Park circuit launched itself into the Formula One conciousness in 1996 by starting the season in spectacular style. On his first competitive outing in an F1 car, Jacques Villeneuve stormed to pole position ahead of team-mate Damon Hill.

Villeneuve then seemed to spend the rest of the race battling his Williams against that of Hill's. The two of them, driving equal cars on a circuit which neither of them had experienced before found themselves thrilling the world with the sort of close racing that brings fans to the sport. Villeneuve eventually succumbed when a forced error onto the grass damaged an oil line. He had to slow down, Hill took the win. Both drivers gained new fans, and the circuit drew fullsome praise for its combination of fast bends, challenging racing and easy spectating.

Colour coded shingle is a likeable eccentricity!
Race Day : March 9th 1997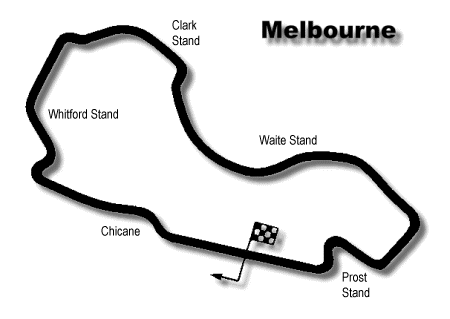 Circuit Length: 5.369 kilometres/3.274 miles
GMT +10 hours
Friday Practice: 11.00-12.00 and 13.00-14.00
Saturday Practice: 09.00-09.45 and 10.15-11.00
Saturday Qualifying: 13.00-14.00
Sunday Warm-Up: 09.30-10.00

AUSTRALIAN GRAND PRIX: 14.00 ... 58 Laps, 306kilometres, 190miles
| | | |
| --- | --- | --- |
| Lap Record | Jacques Villeneuve | 1m33.421s/204.313 kph |
| Winners: | | |
| 1996 | Damon Hill | Williams |
| | | |
| | | |
Prior to 1996, Formula One racing in Australia was always hosted at the Adelaide Street Circuit where the usual scheme was for the Australian GP to be the final race of the season. After a hard fought campaign, Melbourne won the contract to hold Grand Prix at Alber Park and development soon started. Now, Australia hosts the first race of the season leading to an altogether different atmosphere as compared to the carnival style proceedings of Adelaide.

Grand Prix racing (non-championship) took place at the park in the 1950's - the most famous racing driver of the time to experience the track was probably Stirling Moss.

The new circuit layout is an excellent combination of fast, flowing corners, a hairpin bend and a smooth nature that lends itself to skillful driving.
1997 Championship Contents

Formula 1 Contents