Imola is the spiritual home of not motorsports. Not only for Italy, but for the world. Ferrari treat this track very much as one of the most important of the season. In 1996 Schumacher achieved what seemed to be the impossible - he qualified on pole position in his recalcitrant Ferrari.

Historically the circuit is associated with great deeds and great tragedies. The most haunting memory of the circuit that most people will have is the death of Ayrton Senna and Roland Ratzenberger in 1994.
Race Day : April 27th 1997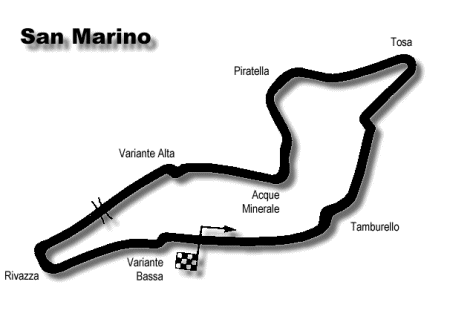 Circuit Length: 4.892 kilometres/3.041 miles
GMT +2 hours
Friday Practice: 11.00-12.00 and 13.00-14.00
Saturday Practice: 09.00-09.45 and 10.15-11.00
Saturday Qualifying: 13.00-14.00
Sunday Warm-Up: 09.30-10.00

SAN MARINO GRAND PRIX: 14.00 ... 63 Laps, 308kilometres, 192miles
| | | |
| --- | --- | --- |
| Lap Record | Damon Hill | 1m28.931s/198.032 kph |
| Winners: | | |
| 1996 | Damon Hill | Williams |
| 1995 | Damon Hill | Williams |
| 1994 | Michael Schumacher | Benetton |
| 1993 | Alain Prost | Williams |
| 1992 | Nigel Mansell | Williams |
| 1991 | Ayrton Senna | McLaren |
| 1990 | Ricardo Patrese | Williams |
| | | |
In 1994, Formula One suffered one of its greatest shocks of the modern era when two drivers died at Imola. One, an acknowledged master of the sport, the other a young Austrian looking to make his mark. Both were a tragic loss and the repercussion of this are still being felt.

Following on from this dark weekend, Imola introduced a number of changes to the circuit to make it safer. The infamous Tamburello was one which needed the most work, but which many feel has also suffered hugely. A fast, exciting corner in its past, it had a chicane placed in the middle to slow the cars. It ruined a great if infamous corner, but it's hard to argue in the face of mounting pressure for safety.

No longer a thrilling power circuit, this track lives largely off the near frenzied support of the Italian motorsports fans. Power matters less now, but the circuit is still often a host to some of the most exciting races.
1997 Championship Contents

Formula 1 Contents