Race Day : July 13th 1997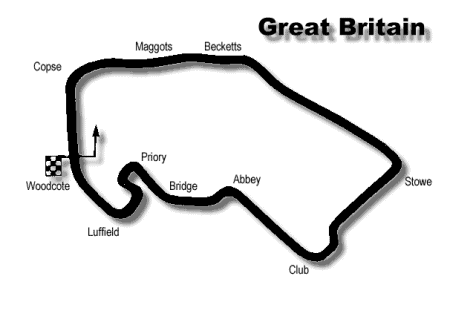 Circuit Length: 4.250 kilometres/2.64 miles
GMT +2 hours
Friday Practice: 11.00-12.00 and 13.00-14.00
Saturday Practice: 09.00-09.45 and 10.15-11.00
Saturday Qualifying: 13.00-14.00
Sunday Warm-Up: 09.30-10.00

FRENCH GRAND PRIX: 14.00 ... 61 Laps, 313 km, 195 miles
| | | |
| --- | --- | --- |
| Lap Record | Villeneuve | 1m29.29s 199.58 km/h |
| Winners: | | |
| 1996 | Jacques Villeneuve | Williams |
| 1995 | Johnny Herbert | Benetton |
| 1994 | Damon Hill | Williams |
| 1993 | Alain Prost | Williams |
| 1992 | Nigel Mansell | Williams |
| 1991 | Nigel Mansell | Williams |
| 1990 | Alain Prost | Ferrari |
| | | |
A an incredibly modern facility which is used year round for F1 testing - this, and the fact that it's home to the majority of the UK Grand Prix scene, means that all the teams have intimate knowledge of the track. Barring the sometimes obtuse weather this track is often a strong indicator of which particular car is the strongest in the year.

A win here usually represents the zenith of achievement by a Grand Prix team - the competition is so intense that winning is never easy.

The race itself has tended to vary between high drama and surprising tedium. On a good race there's nothing to stop the ardent UK race fan from turning away from the screen - except, perhaps, an advertisement...
1997 Championship Contents

Formula 1 Contents