AUTOSPORT INTERNATIONAL 1997
The Cars
The Car's The Star. And seriously - that's the case at this show. For most race car manufacturers this show is their opportunity to show off their latest creations. Not only that, but many of the component manufacturers like to show that they've been busy too.

Peugeot today launched their latest BTCC contender. the 406, resplendant in a gorgeous new gold and black 'flames' colour scheme.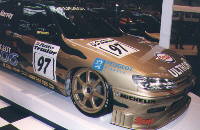 Subaru, who's cars are prepared by Prodrive, were another team to show off their latest and most gorgeous. Their latest World Rally Championship contender looked great, but here's a tip to Subaru... Clean the car! In fact, anyone used to the extremely high standards of presentation that's present at International car shows would find that the motorsport lot are rather more interested in how their cars go, than how they look. That's all good and proper, and to be quite honest most race cars never look as good as they did here!

Another notable highlight was Noel Edmonds' launch of the new Panoz GT racer. Panoz is an American small capacity production car manufacturer who specialise in high performance, large capacity motorcars for the enthusiast customer. The cars themselves could be described as gorgeously brutalistic in their looks, as you an see in the picture of the new GT below, but others seemed to think it was just plain ugly. If you want to see a Panoz GT in real action then go along to this year's Le Mans 24hour race in June where Noel Edmonds' Unique Sport will be racing the GT1 racer. If you'd like one of these cars you'll need to pay a whopping $750,000! McLaren F1 money, and it's electronically governed to a maximum top speed of 155mph. A more affordable Panoz AIV Roadster will still go like stink and costs just $58,000 - a snip in comparison, though I couldn't help feeling that most British and European customers would favour a Caterham Superlight for less money and a purer design basis.

Engine manufacturers and tuners were out in force. Whether you need a rally version of the Subaru flat four engine or a 'Superchip' fitted to your Escort you'll find what you need to know at the show. Some of the more interesting stands were being run by manufacturers such as Cosworth, Champion, and Renault. If, however, your interest happens to lie in tuning then you could find technicians from Cosworth, Superchips, Demon Tweeks, or Janspeed.

The range of engineering firms at the show was quite simply incredible. Electric karts specialists through to hose suppliers through to livery designers through to Formula One. Interestingly, none of the top Formula One teams had stands of their own. To make up for it Goodyear and Bridgestone F1 tyre makers both had huge and impressive stands to draw your attention.