Ralf Schumacher... Modest, moi?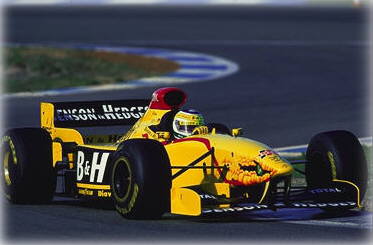 Ralf Schumacher
On the eve of the German Grand Prix, we talk with Ralf Schumacher about his learning curve in the first half of the season and ask him about his reputation for arrogance.....
You kick off the second round of the Formula 1 season in front of a home crowd in Germany. How would you sum up your first Half-season in F1?
"To be honest I am quite satisfied. I had some technical problems in the first few races but things have since got better. I have finished in the points several times (Argentina, France and Britain) and I have been on the podium once. I think these are good results for a new driver at this level.
Starting one's career with a front running team like Jordan was difficult and risky for a young inexperienced driver when one considers the inevitable Pressures and responsibilities which fall on the drivers' shoulders and the need for them to Score good results?
''Well to be honest no-one at the start of the season knew that Jordan would be as strong as it has been in some of the races. I thought that it was a perfect opportunity for me and I never really felt the weight of pressure. Frankly I am happy to be here and not elsewhere "
Coming from Japanese Formula 3000 how did you cope with the responsibilities which are part of one's arrival in F1?
"You know that in F1 the main thing is the pressure which you put on your own shoulders. Looking at the situation in an objective way, one must Judge my resuIts and not lose sight of that fact. Everything in F1 is new for me. There were the circuits and the way in which the team operates. Although I had met the people during the pre-season tests, it is a question of gaining confidence "
Observers reckon you have an aggressive style both at wheel of the Jordan-Peugeot and also when you are not in the cockpit is that necessary for a young driver to win respect in F1?
"Actually I do not see myself as an aggressive driver to be honest, I simply try to do the best job possible. For example on the race track I do not to let an overtaking chance pass me by if it presents itself. This is normal, it is simply a question of getting 100% of its car's potential. The style of a driver can also depend a lot on the handling of his car. Look at Michael for example at the wheel of the Ferrari. Last year and at the start of this season, he adopted a style which seemed aggressive simply because he had to drive the car at 110% in order to achieve anything. In such a situation a driver is flirting with the limits. Perhaps you can call it aggressive out sometimes it is a necessary style of driving "
What do you think about your reputation for arrogance in the F1 paddock?
"I think that this comes from the reputation I had when I was in Formula 3. I do not know how it started. I do not think I am arrogant but I am trying nonetheless to change a little and adapt myself to the new world in F1. The only thing is that It is very difficult to struggle against a reputation once it is established whether that is justified or not - and that would be a lot of energy expended to achieve not very much."
There is no question that you have had problems at the start of this year with your Jordan team mate Giancarlo Fisichella. What is the situation between the two of you today ?
"I think that the principal problem was that the team is running two young drivers who have everything to prove. Both want to beat the other, both want to win and get the team behind them. To gain respect and show that they are stronger than their team mate, Giancarlo and I have, no doubt made mistakes by being obsessed with each other's performance but with the help and advice of Eddie Jordan we have tried to calm things down a little and work together for the good of the team. I think that we now have a normal relationship. We are working together during race weekends and we are exchanging information,"
What are the most difficult problems to understand and solve when you are a young driver discovering the complexities of Formula 1 racing?
''Personally I am very interested in the technical and mechanical aspects of F1. I would say that the major problem facing a young driver in F1 is in the paddock. In F1 there are lots of Journalists and commercial interests. One has to be available for things other than the car and the race and it is not that easy to control or to accept.
Is it a problem or an advantage to have the same name as the best driver in the world?
"listen, when the results are there the name has no importance. Clearly I am not able to escape the comparison with Michael but I feel that I have the right to be a little slower than he is for the moment.
Have you had the chance to discuss the racing with your big brother? Do you exchange information?
"No, not really even if it happens between us. When we get the chance to talk quietly with each other we prefer to talk about things of everyday life rather than problems at 'the office'."
Did Michael help you get into F1?
"The name Schumacher helped me, that is for sure but Michael did nothing directly. He half-opened the door but I organised a way though the door on my own. I was the one who spoke to Eddie Jordan it wasn't Michael. "
Have you beaten Michael in Kart races?
"I don't remember."
What have you learned in this first half- season in F1?
''Hmm, nothing special ''
Formula 1 Contents